SAFE      SPACIOUS      SIMPLE  
The Rose Bay Office Suite is located Suite 1/ 665 Old South Head Road, Rose Bay. I initially opened the doors in Rose Bay in December 2020. It has been almost a year since I moved my business office from Manly to Rose Bay. Both are beautiful beach communities central to Sydney CBD. Throughout the year I have focused on building connections to the local community including with health professionals, schools and small businesses. It was important for me to transition to Rose Bay slowly by gaining a better understanding of the local community that I aim to support. I believe in the importance of working within the community framework when supporting clients and I am eager to continue to build connections.
I have been supporting clients mostly via Telehealth due to Covid restrictions however I often hear many clients eager to return to Face to Face psychological support. When deciding on the office location and space I wanted to create something that was unique to the Psychology industry. I created a boutique atmosphere where people could receive psychological support in a environment that felt safe, spacious and simple. This is how I feel when I walk into the office and I hope the clients that come into this space also feel this way. I want people to feel free to express themselves in the environment.
The Rose Bay Area is a beautiful backdrop for the office location, just 2 minute walk from beautiful parks, ocean and city views. The office is located on Old South Head Road in a quiet commercial building. There is a small sign on the street to welcome guests. As you walk through the door and up the stairs on the left there is a door with a sign greeting guests. When opened you walk straight into an open plan space with comfortable seating. My focus on the design and choice of the building is creating a unique atmosphere that feels safe, spacious and simple which I feel has been achieved.
In the future I will add meet up groups and support groups however at this time due to Covid restrictions I am only seeing individuals, couples, and families. I look forward to growing my networks in the community and supporting clients through providing evidence based psychological support. Please feel free to give me feedback on your experience at We Connect, I want to continue to meet the needs of clients and always open to improving on client care.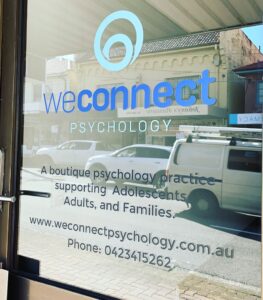 Front Door Street Sign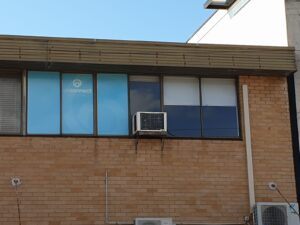 Street Sign